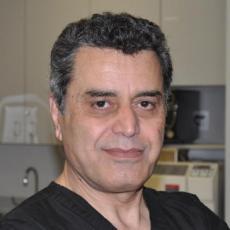 Ruben B. Abrams, MD
1125 South Beverly Drive,
Suite 420, Los Angeles, Ca,
90035
United States
720 Paularino Avenue,
Costa Mesa, Ca, 92626
United States
Phone: 310-276-7777
Fax: 310-276-7776
About Dr. Ruben B. Abrams, MD
"In order to provide service for you that will meet our high standards of the Ultimate Art Form we first must understand what your needs and your goals are. This begins with an honest and open discussion in a friendly environment. Then we will discuss with you what can and cannot be achieved. Once we are certain that your expectations are realistic, we have a clear understanding of the goals we are jointly trying to achieve, and we are confident that we can help you, then we arrange for your surgery to be scheduled. In our practice everyone is treated like a member of our extended family and our service can be summarized in: compassion, honesty, and state of the art technology. Most importantly our operations should be natural looking, avoiding the typical surgical look. Once we are certain that we have gained your trust and you believe that we are able to meet these goals, then and only then will we embark upon surgery."
Click here to connect with Dr. Abrams on Facebook
About Dr. Ruben B. Abrams, MD
EXPERIENCE, SKILL, AND ARTISTRY
A Board Certified Plastic Surgeon, Dr. Abrams has extensive experience in the latest cosmetic surgery advances and the artistic techniques he employs are innovative. Through his over 20 years of experience Dr. Abrams has developed a unique and personal approach to all areas in aesthetic surgery that he deals with which have resulted in the most satisfactory outcome. Dr. Abrams has extensive experience in all areas of cosmetic surgery including Facial Rejuvenation, Nasal Improvement, Breast Enhancement, and Body Contouring.
With an accomplished background as a performing artist and musician, Dr. Abrams recognized the artistic values in aesthetic plastic surgery very early in his training as a surgeon. He embraced the concept of being able to cosmetically improve one's appearance, or to reconstruct defective parts of the body. As his plastic surgery practice evolved and his exquisite results became apparent, he coined the term: "THE ULTIMATE ART FORM" to describe his specialty. Dr. Abrams truly believes in an artistic approach to cosmetic surgery by incorporating innovative aesthetic principles and utilizing the latest technology. A good example is his New Age Lift which is an innovative technique of face and neck lift with very natural results and no evidence that surgical rejuvenation has been done.
Additional Information
Patient Testimonial:
Dear Dr. Abrams,
Considering I have known you for the past nine years, I feel this letter has been long overdue. It is my hope that it finds you in good spirit and delivers a message of appreciation and thanks for the superior care and service you have been so generously providing to my family, friends, and myself.
Aside from possessing the best techniques and knowledge, Dr. Abrams, you posses something much superior that has been marking our souls and shall remain in our hearts forever: Your genuine care and honesty.
Doctors with your qualities are almost like endangered species. They are few and far in between. I wish the world would come up with a plan to preserve you guys.
We love you, Dr. Abrams. Keep up the good work.
Truly Yours, N.K.
08/19/2010
Liposuction
Lower Body Lift
Post-Bariatric
Tummy Tuck
Body Contouring
Facial Implants
Forehead Lift
Hair Transplantation
Lip Augmentation
Breast Augmentation
Breast Implants
Breast Lift
Breast Reduction
Male Breast Reduction
Arm Lift
Nose Reshaping
Cheek Augmentation
Chin Augmentation
Ear Surgery
Eyelid Surgery
Facelift
Chemical Peel Deep
Chemical Peel Light
Fat Injection
Injectables
Laser Hair Removal
Micropigmentation
Mircrodermabrasion
Skin Resurfacing