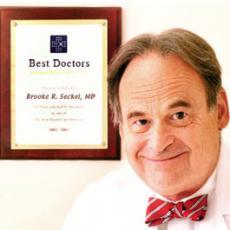 Brooke R. Seckel, MD, FACS
170 Commonwealth Avenue, Boston,
Ma 02116
John Cuming Bldg, 131 Ornac,
Suite 700, Concord, Ma, 01742,
United States
Phone: 978-369-4499
Fax: 866-743-7213
About Dr. Brooke R. Seckel, MD, FACS
Dr. Brooke Seckel is a Harvard trained, Board Certified Boston plastic surgeon with over 30 years of experience providing skilled plastic surgery and aesthetic services in an ethical and honest manner to his many Boston Area patients. Dr. Seckel prides himself in treating all patients in a kind, patient and professional way, taking the time to truly understand your goals and aspirations when you seek plastic surgery consultation. Dr. Brooke Seckel served as Chairman of Plastic Surgery at Lahey Clinic for 25 years before entering private practice in 2006. He has achieved many honors for his work in Plastic Surgery including being named Best Plastic Surgeon in Boston by Boston Magazine, Top Surgeons in America and Best Doctors in America.
Dr. Seckel has a special interest in Breast Augmentation, Tummy Tuck, Facelift, Eyelid Surgery, and non-surgical facial rejuvenation and anti aging skin care.
You will be treated with respect and caring during your visit to Dr. Seckel's practice at Boston Plastic Surgery Specialists as he and all of his staff adhere to the following important mission statement:
?Professionalism?all surgeons are certified by the American Board of Plastic Surgery and will always treat you in a respectful, ethical and professional manner.
?Experience?36 years of combined experience in cosmetic Plastic Surgery, Medical Anesthetics and Laser Procedures.
?Safety?all surgeries are performed in a Hospital or Ambulatory Surgery Center annually certified by the Massachusetts Department of Health and the Joint Commission for Accreditation of Hospitals (JCAHO). Inpatient overnight stay accommodations are available.
?Patient?Centered Care?the focus of our practice is always on you and your goals. We listen to your concerns and goals and design our procedures to achieve the result that you desire. We do not apply text book solutions to aesthetic procedures but do our best to individualize our treatments for your unique face, breast, body, or skin concern.
?Honesty?trust in your Plastic Surgeon is essential for a successful outcome. At Boston Plastic Surgery Specialists we treat you with honesty and sincerity.
?Artistic Sensitivity-the beauty of the human face and form is an artistic ideal. At Boston Plastic Surgery Specialists we combine our artistic intuition and surgical skills with modern plastic surgery techniques to enhance the beauty of the human face, breast, body and skin.
?State of the Art Procedures?Boston Plastic Surgery Specialists are nationally and internationally recognized innovators and teachers of Plastic Surgery with teaching appointments at Harvard Medical School and other major Boston area medical institutions. Boston Plastic Surgery Specialists teach at and attend major Plastic Surgery meetings and stay current on the most effective and safest Plastic Surgery procedures to achieve the best possible result for Face, Breast, Body and the Skin Aesthetics.
Dr. Seckel has offices at The Boston Center at 170 Commonwealth Avenue, Boston 02116 phone number 617-455-2859 and at Emerson Hospital at 131 ORNAC, Concord, Massachusetts 01742 phone number 978-369-4499. Dr. Seckel is on the staff of the Lahey Clinic, Emerson Hospital and the Boston Center for Ambulatory Surgery.
About Dr. Brooke R. Seckel, MD, FACS
Dr. Seckel performs many different Aesthetic Surgery and Non-surgicaL rejuvenation procedures. However he has a special interest in Breast Augmentation, Tummy Tuck, Facelift, Eyelid Surgery, and non-surgical facial rejuvenation and anti aging skin care.
Post-Bariatric
Tummy Tuck
Facial Implants
Forehead Lift
Hair Transplantation
Lip Augmentation
Breast Augmentation
Breast Lift
Breast Reduction
Male Breast Reduction
Nose Reshaping
Cheek Augmentation
Chin Augmentation
Ear Surgery
Eyelid Surgery
Facelift
Chemical Peel Deep
Chemical Peel Light
Fat Injection
Injectables
Laser Hair Removal
Micropigmentation
Mircrodermabrasion