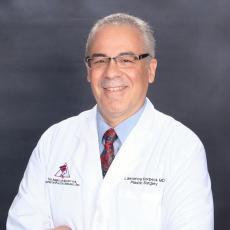 Lawrence M. Korpeck, MD, FACS
200 Glades Road, Suite 1A,
Boca Raton, Fl, 33432
United States
Phone: 561-416-1272
Fax: 561-391-1384
About Dr. Lawrence M. Korpeck, MD, FACS
I was attracted to how diverse this specialty is. Aesthetic Plastic Surgery involves a lot of planning and creativity and can have a profound effect on one's self image and life. Plastic Surgery is a very personal choice and should never be forced on anyone. One should never commit to undergo these procedures to please anyone else. The best reason to do these procedures is to help improve one's own self esteem.
My personal approach to patient care includes: a detailed initial consultation, extensive and thorough review of patient's medical history prior to the procedure, second consultation prior to procedure, calling patients at home the night of the procedure, follow up in office within 48 hours of most procedures, and extensive weekly post-op visits for several months after procedure to monitor healing. I can be reached 24/7 for any questions.
The happiest patients having had plastic surgery are ones who have been well informed and who have realistic expectations
About Dr. Lawrence M. Korpeck, MD, FACS
Dr. Korpeck specializes in Breast Augmentation, Body Contouring, Liposuction, Tummy Tucks and Aesthetic Injectable Fillers.
Dr. Korpeck has performed over 5,000 surgical procedures out of his clinic in Boca Raton, with a fully accredited and certified operating room and recovery area. Dr. Korpeck's clinic provides patients with individualized surgical consultations and procedures to assist them in improving their confidence and appearance. His staff also incorporates the latest non-invasive techniques in skin & body treatments and rejuvenation at his clinic's full service Med Spa with two medical aestheticians.
Procedures
Face: Browlift, Blepharoplasty, Facelift, Rhinoplasty, Otoplasty, Lip Augmentation, Chin Implants, Cheek Implants
Breast: Breast Augmentation (implants), Breast Lift, Breast Reduction, Breast Reconstruction, Male Breast Reduction
Body: Abdominoplasty, Body Contouring, Brachioplasty, Pectoral Implants, Liposuction, Calf Augmentation, Vaser Liposuction, Fat Grafting
Injectables: Botox Cosmetic, Dysport and filler/ injectables: Juvederm?, Restylane?, Perlane?, Voluma?, Radiesse, Sculptra?, Voluma?
Med Spa: CoolSculpting Technology, IPL Photorejuvenation, Dermaplaning, Thermage?, Microdermabrasion, Lymphatic Drainage, Chemical Peels, Viora Reaction?, Latisse?, Rejuvapen?, Permanent Hair Removal, Waxing Eyebrows, Upper Lip, Arms, Underarms, Legs,
Facials & Peels: Lactic Peels, Glycolic peels, Jessner Peels, TCA peels, The Perfect Peel, Red Light Therapy, Ultrasonic Facials, European Facials
Facial Implants
Facelift
Eyelid Surgery
Ear Surgery
Cheek Augmentation
Chin Augmentation
Tummy Tuck
Liposuction
Post-Bariatric
Male Breast Reduction
Breast Reduction
Breast Lift
Breast Augmentation
Hair Transplantation
Lip Augmentation
Nose Reshaping
Chemical Peel Light
Chemical Peel Deep
Injectables
Fat Injection
Laser Hair Removal
Mircrodermabrasion
Micropigmentation