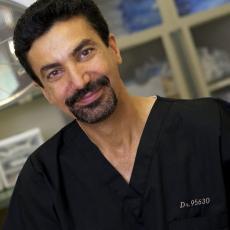 Shahriar Mabourakh, MD
Suite 110, 1561 Creekside Drive,
Folsom, Ca, 95630
United States
1805 N. California Street,
Suite 308, Stockton, Ca, 95204,
United States
Phone: 916-984-1600
Fax: 916-984-1616
About Dr. Shahriar Mabourakh, MD
Plastic Surgery is an important personal decision and event in your life. Enhancing and improving your natural assets is the objective of plastic surgery, so procedures are designed specifically around your needs and desires, keeping in mind what is appropriate for you.
Our goal is to fully understand the results you wish to obtain and to communicate to you what can be achieved through the latest plastic surgery techniques and procedures being performed today. Investing time and effort in building a strong, trusting doctor-patient relationship, one that allows the patient to ask the right questions to make informed, careful decisions, is the best way to ensure that you are happy with your results.
About Dr. Shahriar Mabourakh, MD
Breast Augmentation – Breast enlargement
Breast Lift – Mastopexy
Breast Reconstruction
Breast Reduction
Male Procedures – Love Handles
Male Breast Reduction – Gynecomastia
Male Cosmetic Procedures
Liposuction – Lipoplasty
Abdominoplasty – Tummy Tuck
Rhinoplasty – Nose Surgery
Blepharoplasty – eyelid lift
Brow Lift – Forehead Lift
Face Lift – Facelift
Otoplasty – Ear Pinback
Labiaplasty – Labia Reduction
Arm Lift – Arm Reduction
Additional Information
Dr. Mabourakh, a well trained and experienced plastic surgeon – cosmetic surgeon specializes in all cosmetic surgeries of the face, breast and body using the latest techniques and technology. Safety being his first priority, Dr. Mabourakh only works with board-certified anesthesiologists certified by The American Board of Anesthesiologists in his fully accredited on-site facility, Creekside Surgery Suite accredited by The California Medical Association.
Our offices offer full range of rejuvenation and skin wellness techniques by our medical esthetician including chemical peels. laser resurfacing, Botox Cosmetic and a full line of dermal fillers such as Restylane, Artefil, Radiesse, Juviderm are also available.
If you are interested in looking better and doing something for yourself, contact Dr. Mabourakh's office for a comprehensive evaluation. He will encourage you and gladly answer any questions you may have and explain all aspects of the procedure you are considering. The doctor and his highly trained staff are committed to providing excellent, personal care to each of their patients, not just the rich and famous.
Lower Body Lift
Post-Bariatric
Tummy Tuck
Body Contouring
Facial Implants
Forehead Lift
Hair Transplantation
Lip Augmentation
Breast Augmentation
Breast Implants
Breast Lift
Breast Reduction
Male Breast Reduction
Arm Lift
Nose Reshaping
Cheek Augmentation
Chin Augmentation
Ear Surgery
Eyelid Surgery
Facelift
Chemical Peel Deep
Chemical Peel Light
Fat Injection
Injectables
Laser Hair Removal
Micropigmentation
Mircrodermabrasion
Skin Resurfacing