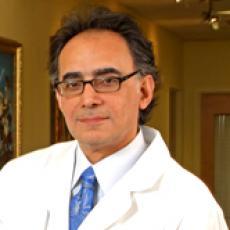 Saeed Marefat, MD
14908 Jeff Davis Hwy.,
Woodbridge, Va, 22191
United States
Phone: 703-560-9583
Fax: 703-490-5782
About Dr. Saeed Marefat, MD
Today many people are taking advantage of surgical procedures to restore their physical appearance or to improve a trait that has always been a cause of low self ?esteem. However the goal of plastic surgery is not to restore youth or to strive for an ?ideal' form regardless of the cost. The aim is to restore your image so that it more closely resembles who you are inside.
My objective is to restore your youthfulness and elegance without obvious signs of surgery. I want you to remain ?yourself' yet look healthier, rested, and more youthful. I will create that shape of nose, breast. or body that was meant for you, not the model in a fashion magazine. And again, I will do this without signs of surgery?without taking away your natural appearance.
Metropolitan Plastic Surgery was established in 1992. With the experience gained in these years of practice, we have created a unique program of personal and specialized care with the utmost concern for your safety and satisfaction. By arranging individual treatment plans and giving each patient the special attention he or she deserves, we have been recognized for our comprehensive approach to diagnosis, treatment, and the complete rehabilitation of our patients to a more youthful and healthier life-style.
About Dr. Saeed Marefat, MD
Dr. Marefat specializes in Cosmetic Plastic Surgery. His areas of special interest are Body contouring and Breast Surgery. In addition to Cosmetic Surgery Dr.Marefat has a considerable amount of experience with Reconstructive Surgical procedures.
Facial Implants
Facelift
Eyelid Surgery
Ear Surgery
Cheek Augmentation
Chin Augmentation
Tummy Tuck
Liposuction
Post-Bariatric
Male Breast Reduction
Breast Reduction
Breast Lift
Breast Augmentation
Hair Transplantation
Lip Augmentation
Nose Reshaping
Chemical Peel Light
Chemical Peel Deep
Injectables
Fat Injection
Laser Hair Removal
Mircrodermabrasion
Micropigmentation