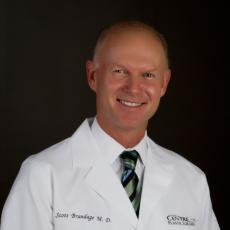 Scott R. Brundage, MD
Centre For Plastic Surgery,
2060 E. Paris Ave., Se,
Grand Rapids, Mi, 49546
United States
Phone: 616-454-1256
About Dr. Scott R. Brundage, MD
Experience. Trust. Confidence. The Centre for Plastic Surgery is renowned for providing 30 years of the highest level of patient satisfaction combined with a legacy of incomparable care. Many of the newest procedures in breast, body, and facial enhancement can be performed safely, conveniently, and confidentially in their brand new, state-of-the-art, accredited, outpatient surgical facility. Staffed with qualified, licensed nurses and board certified anesthesiologists, they are equipped to provide hospital-quality surgical care while affording patients the privacy, comfort and confidentiality that is difficult to achieve in a hospital setting.
The Centre offers a comprehensive approach to your aesthetic goals by offering several non-surgical facial and body contouring treatments and skin care products to help perfect your new look. From your initial interactive consultation to post procedure follow-up, the friendly staff and highly skilled plastic surgeons are here to help every step of the way.
So whether you want a dramatic change or to simply fine-tune your image, our board certified doctors are here to answer your questions, help you set realistic expectations, and determine the best ways to meet your aesthetic goals.
About Dr. Scott R. Brundage, MD
With the skill of a surgeon and the eye of an artist, Dr. Brundage is renowned for his aesthetic precision. Trained at the Indiana University School of Medicine, he fulfilled his general surgery residency at Butterworth Hospital in Grand Rapids and then completed specialty training in Plastic and Reconstructive Surgery through the Grand Rapids Medical Education and Research Center. He is a member of the distinguished American Society for Aesthetic Plastic Surgery and a clinical associate professor at Michigan State University College of Human Medicine. He continues to actively teach Plastic Surgeons in training.
Dr. Brundage specializes in aesthetic facial cosmetic surgery, body contouring, and breast surgery. He has over 25 years of experience in his specialty. Dr. Brundage has lectured and has been invited to speak on radio as well as television regarding current procedures in Aesthetic Surgery. He has been listed in Best Doctors of America, Top Surgeons in Plastic Surgery and Grand Rapids Magazine's Best of Grand Rapids.
Over the past 25 years, Dr. Brundage has refined his aesthetic surgical procedures from his vast experience to give the ultimate result that you desire. He is one of the most experienced plastic surgeons in the area and has the results to prove it. Dr. Brundage takes extreme pride in his surgical expertise and is grateful for all the happy patients that have come under his care.
When you are looking to enhance your appearance or correct a flaw, you should look for an experienced, board certified plastic surgeon. You should also look for something more; a doctor who puts your needs first. You'll find I take the time to explain everything and answer your questions, so you can decide what's right for you.